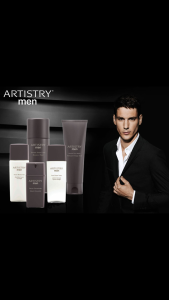 No matter your age, complexion, gender, skin type or condition, the truth is that you deserve the very best. ARTISTRY is for you. We promise outstanding results from our products and we deliver.
As a result, ARTISTRY is ranked amongst the world's top five, largest-selling, premium skincare brands.
(read more))
* ARTISTRY combines more than 45 years of experience and millions of dollars invested in scientific research and development.
* A network of 500 internationally renowned scientists, dermatologists, surgeons and researchers work daily to advance the science behind every ARTISTRY product.
* ARTISTRY men-  is a line of complete, modern skincare products that is specifically formulated to help control oil and optimise hydration levels
* The core skincare ranges include Creme LX® and Intensives, Youth Xtend, ARTISTRY Hydra V, Artistry essentials and Ideal Radiance.
* Artistry also *offers a full range of foundations and cosmetics- tailored to your skin type, colours to provide coverage let feel lightweight.
Come and see us to find out how you can be educated on the health of your skin through a skin analysis facial!